Event Page
for the Friends of Attleboro Public Library
Find upcoming and current events for Friends of Attleboro Public Library
Free Play Tuesdays
 A wonderful service to families, Mrs. Brown and Friends members connecting with children and their families at Free Play Tuesday this summer.
One of many enriching events the APL and Friends carry out to enrich our community.
Check out the library event calendar for more information, here.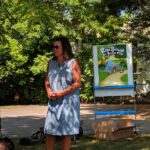 Autumn
BOOK SALE – SATURDAY NOVEMBER 5
The Friends need your gently used books for their upcoming book sale on Saturday November 5.
Books can be dropped off at the library's circulation desk.
Please bring donations in small boxes and shopping bags.
No text books or magazines accepted. Thank you!


Winter
Membership Drive
Membership Renewal
Spring
Library Giving Day
National Library Week
Members' Event