When donations come in, they are taken up to the fourth floor to the sorting room, where they are sorted into labeled boxes by genre.


The newest, seasonally-appropriate books are immediately put on display for sale in the Book Nook.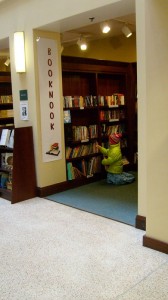 Duplicate books are sent to Better World Books, who in turn pay a flat rate to the Friends of Attleboro Public Library. The rest of the books are sold at the Friends' Annual Book Sale.
What do the Friends do with the funds?
Support and fund the Attleboro Public Library.