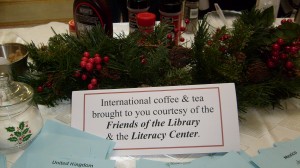 I sent my family ahead as scouts Saturday morning – which was their favorite part of the International Tea and Coffee Celebration?  My husband and Older Son liked the flavor of the  Syrian coffee best, but my Younger Son loved watching Maria make Japanese tea in her Grandfather's tea pot.
Mrs. Pilkington-Smyth and Mrs. Rhilinger were sipping their drinks by the atrium when I arrived, pleased with the turnout.
I wandered about looking at the displays and pretty cups.  I met Emily cheerfully serving black tea in a marble corner.  Mrs. Beckwith was standing nearby.  I asked her what her favorite thing about the morning was, and she indicated Emily.  "I worked with her mother on the board."  It sure is beautiful to see traditions of volunteering passing down a family.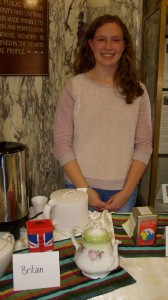 Remembering my son's delight in the Japanese tea, I moved over to Maria's table next.
The black pot is cast iron, and very heavy indeed.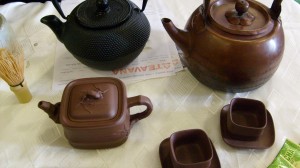 I loved the leaf motif on the top of the brown pot handle.
You froth the tea with back and forth strokes, not circular ones.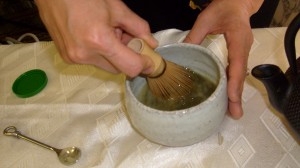 Maria hadn't had a chance to try the other drinks, so she didn't have a favorite of the other beverages.
What a delight to see Ms. Hernandez again. Excellent Puerto Rican coffee, of course.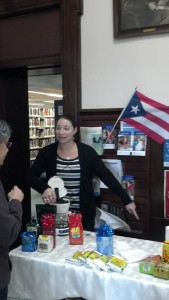 I didn't get to all the other tables.
But I did get to say hi to Lucrecia.  Her favorite thing was that everyone saw how many ways there are to enjoy coffee. It's not just coffee we can try other ways from other places.

The event was closing, but I caught Therese before she put away her Syrian coffee, and my family was right about how delicious it would be.  Her favorite thing about the morning was practicing her English.
And my favorite thing?  Hearing happy people enjoy each other and their traditions in the library.