The familiar view of the main floor of the APL: the circulation desk on the left; books on reserve – turn left just beyond the circulation desk, and they're shelved in the hallway under the stairs.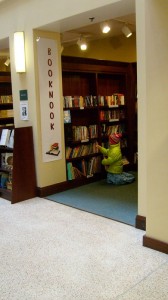 But when I stand near the circulation desk and look to the right, I see the new Book Nook Banner, where the new non-fiction used to go.
There are lots of seasonal books here, in good condition, the children's books on the lowest shelves.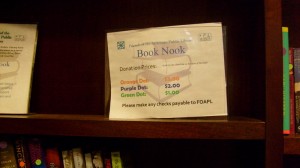 Ah, these are for sale – color coded too, only $1, $2 or $3 a book.
Just drop your cash into the safe in the slot where the arrow points.
And the book is yours.  It's the Honor System.
I wonder if this one will be a stocking stuffer for a sibling.  No one ever gets too old for Dr. Seuss.