When my children and I arrived, the Community Room looked empty, except for the wooden signs we had assembled and the tables.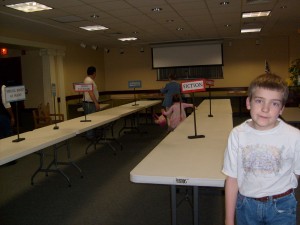 Meanwhile, upstairs in the Friends' organizational lair, the room was really, really full.
But the boxes the books were sorted in were labeled, so we just had to load carts,

take the elevator downstairs (My 6 year-old appreciated getting to ride up to the 4th floor; it takes a special key.  She even got a tour of the technical services office.), and then put the book boxes on the sale tables.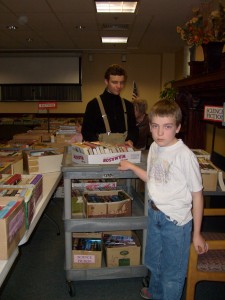 We had to re-arrange the signs on the tables to reflect the number of books we had in each category.

By the time we left, the upstairs room looked almost empty.
And the downstairs room looked filled-to-overflowing.


My kids and I felt very happy to be contributing to the Friends. We slept well that night from all the exercise. But best of all, we got to pick out our purchases before the other shoppers arrived.